7 Years Master's White
Regular price

Sale price

$16.00
林老師傳統工藝 老白茶

Tea in its purest form - sun-withering is the only process. A delicate, peachy flavour, reminiscent of alpine grass. Made in 2016, aged using 100% natural, ancient methods without artificial heat and humidity.

Taste Profile

Sweet, Earthy, and Fruity
Feel

Calming & Comforting
Restorative & Grounding
Health Benefits

Anti-inflammatory
De-stressing & Mood Lifting
Focus & Clarity
Immune Boosting
Nutrient Dense
Habitat

Pan Yin Mountain. Qian Xi Nan, Guizhou.
What's so special about this tea?

Health benefits of aged White tea:

The ancient saying ""one year a white tea, 3 years a medicine, 7 years a treasure"" sums up the health benefits of a well-aged white tea. Stored correctly, the nutritional benefits of this tea increase with its age. This white tea could be your natural remedy for a cold, a hangover and general fatigue. It's generally restorative and calms your body and soul.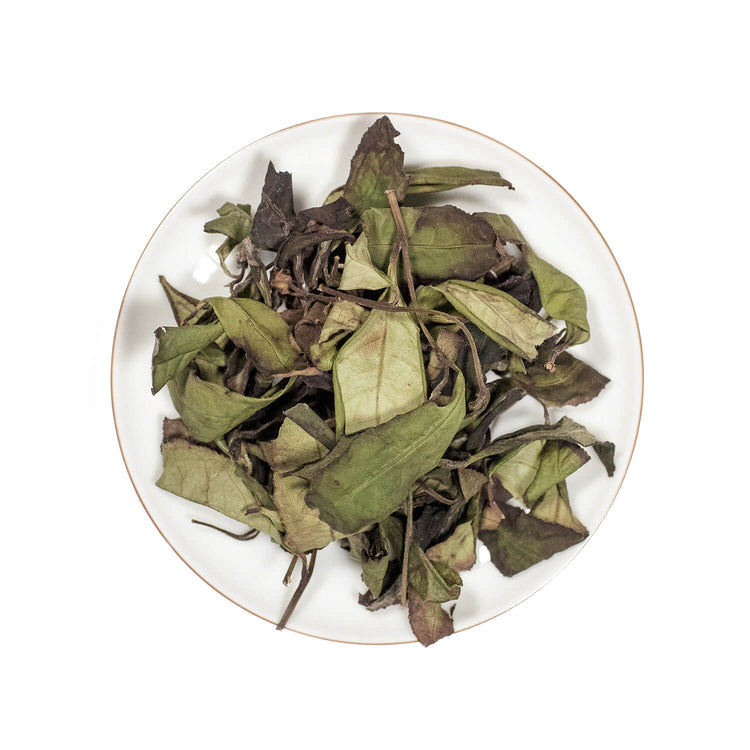 Rock Flavor Aged White Tea
This aged white tea reveals itself strongest during later steeps with longer steep times. Like Master's Oolong Classic, I intentionally forget a steep and come back to it, well over a minute later, to see what's come out. Before the tea really opens up, there are clues to what will happen later: the wet leaves have a caramelized smell that reminds me of a hong cha and the other aged white tea I'm drinking. That comes to the tongue around steep #7 or #8. Present the whole time, and growing stronger, are the Pu'er like camphor notes and a minerality I did not expect. I don't have experience with yancha yet but I imagine it will taste a lot like this. By steep #15 or so, the minerality has come to dominate the tea in a way that makes it unique. The camphor and caramel remain in the back. I brewed this tea in a porcelain gaiwan and will be interested in how it will infuse in a zini teapot that is currently traveling through the mail. Last of all, the cha qi of the tea hits before the flavors and becomes more noticeable with further strength. It results in a cooling body sensation concentrated in the neck and upper back and a settled, yet energetic feeling. This is in contrast to the body sensation of the 2001 Mu Dan I am also drinking which concentrates in the face and makes me want to sing rather than hum. I plan to buy more of this tea but currently have enough to chew on for a while.
Autumn to Winter Calm
It is difficult to describe this white tea. I shared this tea with my partner who has never liked tea but this one became their favorite tea.
This is not a flowery subtle tea. This tea has a depth to it that reminds me of the pine forest when the air gets colder. Its aroma though is very sweet, like mead. The first 10 second brew is very different from the rest. The first brew is like warm autumn morning and is a yellow color. The rest of the brews (caramel) are like pine needle forest floor between that fall to winter transition when the pine needles are dry. This is a good tea to drink before bed if you are sensitive to caffeine, which I am.
A tea that loves to support you!
From the deeply intentional packaging preparation to the exquisite leaves, the 7 Years Master's White will hold you calmly and confidently, always. Gift yourself the relationship to this tea and gain a lifelong friend!
A Hug In A Cup
Master's White is the tea that gently brings me up when I feel down, or calms me when overly excited. With honey undertones and quiet stonefruit sweetness, you'll find it can brew countless times and is reliable in moments of duress.
一年茶,三年药,七年宝
There's a Chinese saying "1 year tea, 3 years medicine, 7 years treasure" ('一年茶,三年药,七年宝') which perfectly reflects Master's White. Not only does it have a sweet and gentle flavour, it helps soothe me when I'm feeling unwell. It has a gentle and warming energy.