Wild and Ancient Red Tai
Regular price

Sale price

$13.00
野生古樹薹茶紅茶
This tea, which comes from 1200-1500 years old wild Tai tea trees, is the boldest of flavour, fragrance and nutrients. Famous for its crystal clear amber colour, its flavours slowly evolve from gentle orange blossom to caramelised honey, with a hint of smoky mountain wood undertones. 

Ideal tea for those who love complex, bold flavours or are in need of dense nutrients. A warming and comforting tea that can be brewed as an alternative to English breakfast/Western black tea.
Explore more for less with our Tai Tea Tasting Boxes. Find out more in the drop-down menu above:
Taste Profile

Floral, Roasty, Sweet, and Fruity
Feel

Calming & Comforting
Restorative & Grounding
Warming
Enlivening & Uplifting
Health Benefits

De-stressing & Mood Lifting
Immune Boosting
Nutrient Dense
Blood Sugar Management
Restorative & Grounding
What's so special about this tea?

What's so special about Tai tea?

Tai tea trees, native to the east of the province, have grown wild and remained almost inaccessible for millennia. They're bold in colour (purple), taste and nutrients thanks to the area's mineral-rich soil and unique natural spring irrigation. A typical brew of
Tai tea has an infusion extract of 46% (a good quality whole-leaf infusion is around 32%). Tai teas are packed with much more nutrients than other teas – including vitamins, anthocyanin (a natural anti-oxidant) and minerals such as Ka, Zinc and Selenium."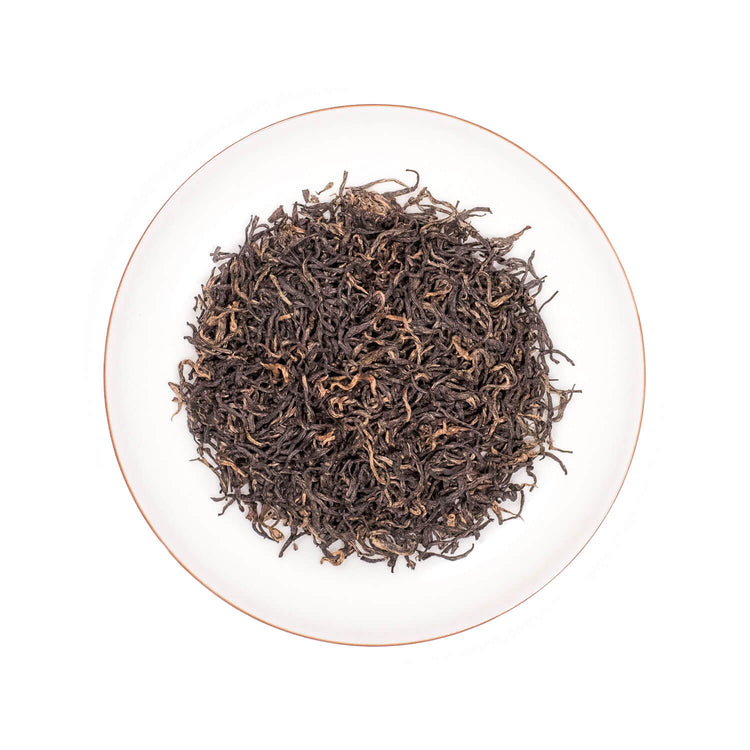 All-time favourite red tea
Great teas call for few words. There just isn't much I can say to do this tea justice. It's delicious, comforting and sweet. It inspires a sense of mature insight and ease, like an ancient wise friend who's truly seen it all and knows deeply that it really will all be ok.
Like Master's red tropical notes, when I brew this tea in my zisha pot, Red Tai's freshly light roasted coffee notes and slated caramel aroma aroma stays for days, complementing whatever teas I have after.
Warming And Comforting
When I engage with this tea, my body feels the most comforting and sustaining warmth. The floral, yet cedar-like wood flavor notes impart the feeling of walking through an old growth forest. This feeling is enhanced if enjoyed when going through a walk in a park/outdoors. Truly, one of my favorite experiential teas.
Amazing morning tea
I normally enjoy red teas in the colder months and whenever it's hard to get the day started I turn to this tea. It has this sort of Cha qi that activates the waters in the mingmen, where i can feel the lower Damian started to warm and circulate. It's definitely a tea to sit with after a meal. As I am more sensitive to these energetics, I love how this tea helps warm and circulate throughout the body.
Amazingly sweet
This tea has such a wonderful sweetness too it but it never loss the depth that you're looking for from a red tea