Master's Oolong Classic
Regular price

Sale price

$14.00
林老師傳統工藝 古法烏龍茶 | 
青茶  <龍秋山 Long Qiu Shan>
The Dragon of the Autumn Mountain
The historical name of this oolong, "The Dragon of the Autumn Mountain", portrays the moment when a dragon lands right before you on a colourful autumn day. It is said that regardless of your mental state, this tea will take you straight back to your presence through the explosions of mesmerising smells and astounding tastes, leaving you in complete awe. 
Expect the warmth of charcoal without the overwhelming smoke, the richness of cacao, and the magic of the ever-changing mouth feel from orchid blossom to Brazil nuts, from alpine woods to caramelised honey. The Signature Oolong by Master Lin.
A tea for you to take time, we recommend at least 10 re-brews.
Taste Profile

Buttery, Fragrant, Fruity, and Roasty
Health Benefits

Blood Sugar Management
De-stressing & Mood Lifting
Digestion & Gut Health
Immune Boosting
Habitat

Pan Yin Mountain (Qian Xi Nan, Guizhou)
Cultural Significance

We prefer to call our "Oolong tea" Qing (/Ching/) Cha. It was categorised as one of the six types of traditional Chinese tea in the 70s. Due to the commercial popularity of Taiwanese-style Oolong from the 90s, the depths and breadths of Qing Cha have yet to be fully discovered by most.

Our Qing Cha comes from wild, ancient, indigenous medium/big-leaf tea trees and is 100% seasonal, local, and small-batched. Following the precious guidance of Master Lin, our intention in offering this tea is to honour and revive the ancient understanding and craftsmanship of traditional Qing Cha that has been unique to the Guizhou southwest region.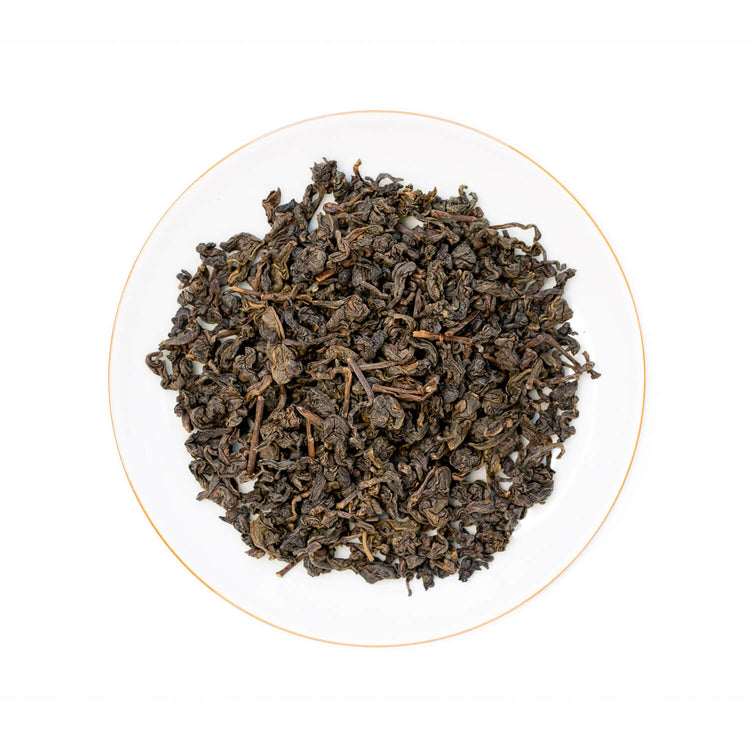 An Oolong of a Different Feather
A caveat for this review: when I started brewing Master's Oolong Classic, my kettle was set for 205 F/ 96 C which may have an effect on my experience. I subsequently heated the water further to 212 F/ 100 C.
Right now, I have three TGY variants and a High Mountain Taiwanese Oolong in my rotation. Yesterday, this tea joined them. Because my taste is so attuned to the flavors of those two related groups of tea, I was in for a big surprise when I tasted Master's Oolong Classic. There is a bit of what I expect from the other teas: high floral notes and the interplay of green and oxidized notes. There's also the minerality that I tasted in Taiwanese Gaoshan oolong. However, there is more. A camphor taste, not unlike Pu'er, grows with each infusion as well as a sweetness that overcomes the nuttiness of the liquor. The increasingly strong camphor taste was shared with Master's 7 Year White, the other tea I ordered. Another thing they shared is that the tea, aside from minerality, moderate floral notes, and nuttiness, did not reveal itself until Infusion #7 and came out like a tiger. The full floral character of the tea was bold and complicated, indisputable sweetness floated in with the velvety mouth feel, and the mint/ anise/ camphor background note made itself very well known. I'd also say that this tea, and Master's 7 Year White do not only withstand forgotten brews but reward them. Maybe the leaf material is so robust that it requires time to release all of its aromatic compounds. What this presents as is that a flash brew at Infusion #11 will be sweeter and more complex than Infusion #2. However, none of them hold a candle to 1 minute or more brewing in the upper infusions. I bought only 8 grams of Master's Oolong Classic (out of which I can get two infusions) and so will look forward to buying more in the future to grow an acquaintance with this tea.
Love at first sip!
I fell in love with the osmanthus oolong, and it now ranks high up in my list of favourite teas. The texture is incredibly smooth and velvety and the fragrance is out of this world. And there's no doubt that the fragrance is natural, not only does it taste otherworldly, you can also literally see the osmanthus flowers amid the tea leaves. A real delight to enjoy on an afternoon break, or why not with a homemade brunch!