Master's Red
Regular price

Sale price

$13.00
林老師傳統工藝 紅茶 2023 Autumn New Batch


After two years of bountiful harvests, the wild, ancient Bird King trees, cherished for their role in crafting traditional Master Red Tea, are now taking a well-deserved rest. In harmony with the rhythm of nature's cycles, we warmly invite you to savour this unique autumn harvest, an enchanting Master's Red with a classic Oolong twist. 
This autumn batch comes from young Mei Zhan trees, renowned for their contributions to some of the world's most celebrated Oolongs. After gently hand-rolling and oxidising the leaves - a classic oolong treatment, Master Lin meticulously guides these leaves through the red tea-making process based on his family tradition, transforming them into a tea that embodies a captivating fusion of aromas and flavours.
Prepare to enrapture your senses with the enticing scents of tropical fruits and blossoms while gardenia, peach, chestnut, and cacao unfold gracefully on your palate. The classic aftertaste of a Master's Red lingers, leaving your throat refreshed and your body contented. This tea promises a journey filled with joyous surprises and comforting warmth. May each sip delight you with a view of autumn's miraculous beauty. 
(The image at the top shows the classic Master's Red, whereas the image on the left/second top for mobile captures the dry leaves of the new 2023 autumn harvest.)

Taste Profile

Fruity, Roasty, Sweet, and Floral
Feel

Calming & Comforting
Warming
Health Benefits

Blood Sugar Management
Immune Boosting
Habitat

Pan Yin Mountain. Qian Xi Nan, Guizhou.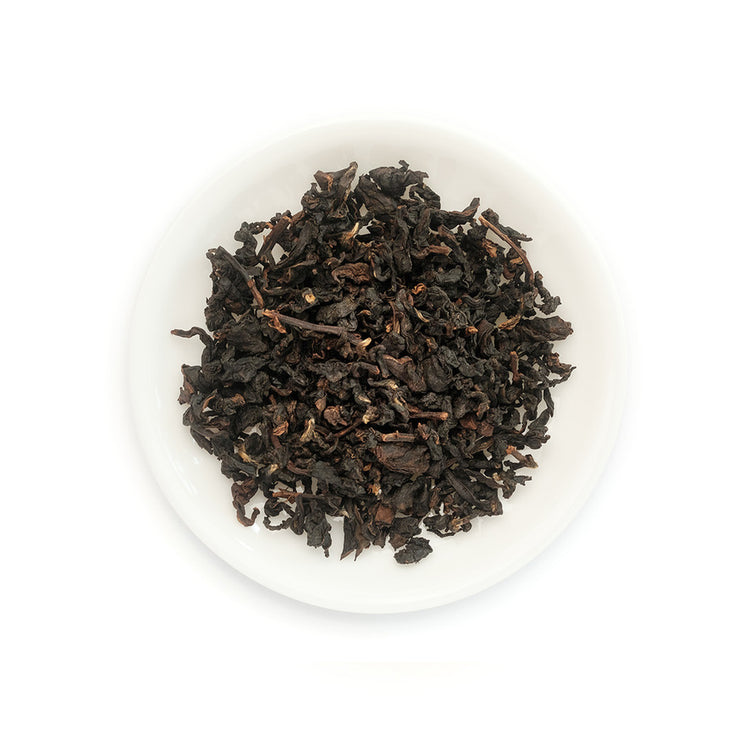 Uplifting yet grounding
This tea invites us to give it all our attention. Drinking it brought to mind passionfruit/peach like sweetness. The smell is uplifting yet grounding at the same time.
Master's Red has an energising quality without giving me the jitters (I'm quite sensitive to caffeine).
I genuinely think this must be the nicest cup of tea I've ever had 😌 Thank you GPT
If you don't like red tea, give this tea a try.
This is a tea you just have to experience for yourself, so I'll be brief: I used to find red teas either boring or just... gimmicky (?) and the qi always felt hollow and harsh. Anyway, for a long time I stopped buying or even sampling red tea and mostly drank greens and shu.
I tried Master's Red and now red teas are my daily go-to alongside ripe teas, and barely keep greens in stock :')
So so grateful to Rui and Master Lin for introducing me to this ♥️
Master's Red tea
Every time I sip a Master's Red, I feel warmth and love, the perfect daily mood lifter ♥️
My favorite tea!
It is the perfect tea to start my day, super warming and relaxing. You can taste the superb quality. It helps me ground myself throughout my day. I continue to come back for more!