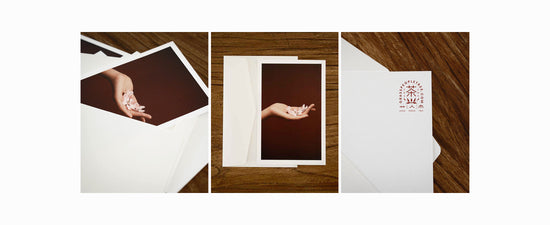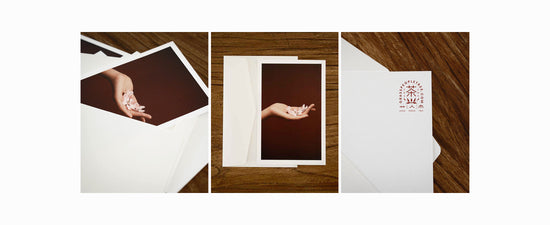 Thank You Love Card Shipping Included
Regular price

Sale price

$28.00
Share your love and gratitude with this set of 6 cards, made with recycled 300g Snow Moon Paper and a non-gloss finish. The blank side invites you to slow down and take a moment to express your feelings and send heartfelt well-wishes.
The print captures the moment when Rui was making an offering with the fallen cherry blossoms at the Buddhist Temple in Qingyan 大興國寺, Guizhou. The specific hand gesture and the number of flowers symbolise openness, wisdom and peace. 
As you share these postcards, we wish for these qualities to spread and multiply, touching the hearts of those who receive them and creating a ripple effect of genuine connection and tranquillity.
Cultural Tradition

The opening hand: To give and receive what is present. An aspirational gesture to uphold the Four Noble Truths in Buddhist teaching.
Three flowers symbolise the Three Jewels: The Buddha, the Dharma (The Buddhist Teaching) and the Sangha (the Community)
What's Included

A set of 6 cards and 6 envelopes.
Worldwide shipping.
Our well wishing to you.
Dimensions

Card: 15cm x 10cm
Envelope: 11cm x 16cm