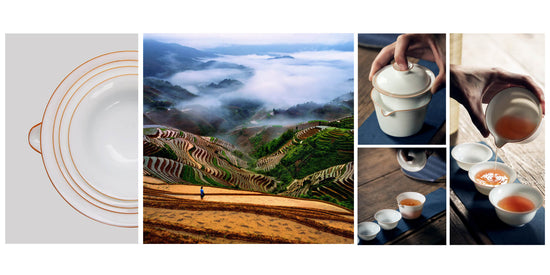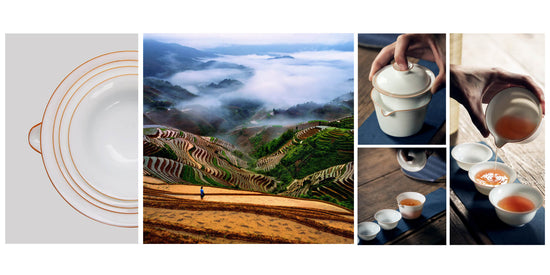 Terrace Gold Ritual – Stackable Tea Set
Regular price

Sale price

$71.00
This stackable, travel-friendly tea set offers everything you need for your tea ritual in a minimalist style. The protective padding ensures extra safety when you are on the go. Once unzipped, you'll find translucent white porcelain Gai Wan, Fairness Pitcher and 3 cups all neatly stacked together - a thoughtful gift for anyone who wants to approach tea in an intentional way without compromises.
Cultural Tradition

For a visitor, the mysteriously layered rice terrace makes a picturesque view. For the people who live in the wild mountains of Guizhou, the field not only counts for their year-long hard work but also sustains them for many harvests to come.

Inspired by the autumn harvest of the rice terraces in Jia Bang, Guizhou, Tian Feng and Rui wanted to celebrate the perseverance and wisdom of the locals, who for thousands of years have turned adversity into advantage, dedicating their ways of life to keeping in harmony with nature.

Our intention in creating this tea set is to provide a tool for easy-brewing rituals that connect with our inner landscape. May you find more peaceful, joyous moments with its companionship.
What's Included

• Porcelain Gai Wan Lid
• Porcelain Gai Wan body
• Porcelain Gong Dao Bei / Pouring cup
• 3 Porcelain cups (small, medium and large)
• 1 Tea Cloth (Recycled faux suede)
• Padded storage zipper bag
Materials

Porcelain and Recycled Faux Suede
Dimensions

• Gai Wan 盖碗 — 100ml
• Gong Dao Bei 公道杯 — 125ml (9cm x 5.5cm)
• Large Cup — 65ml
• Medium Cup — 50ml
• Small Cup — 45ml
• Tea Towel 茶巾 — 50cm x 10cm
• Padded Zipper Bag — 10cm x 9.5cm
• ~900g total weight
Care & Tips

No need for dishwasher. To clean, simply dampen the teaware, dab sea salt and give it a gentle rub.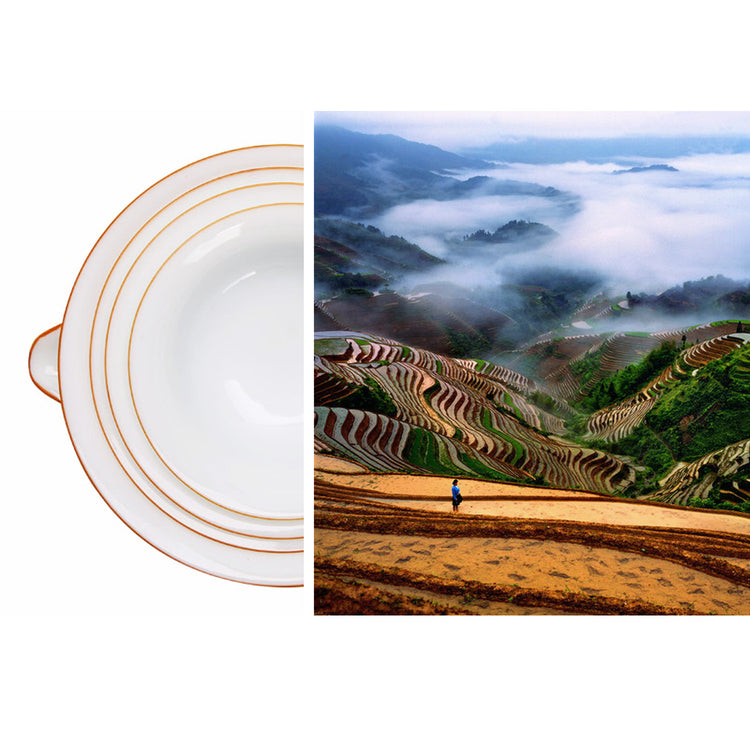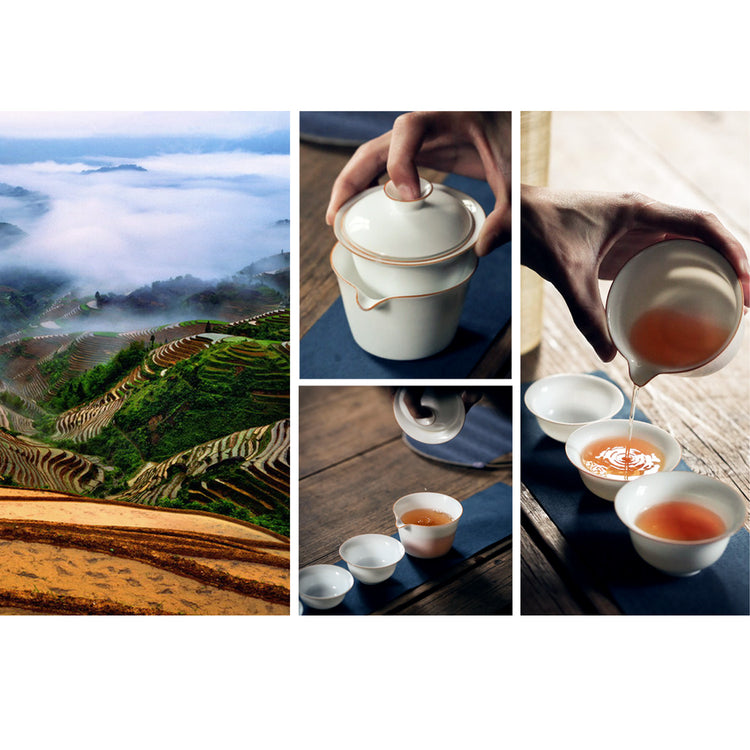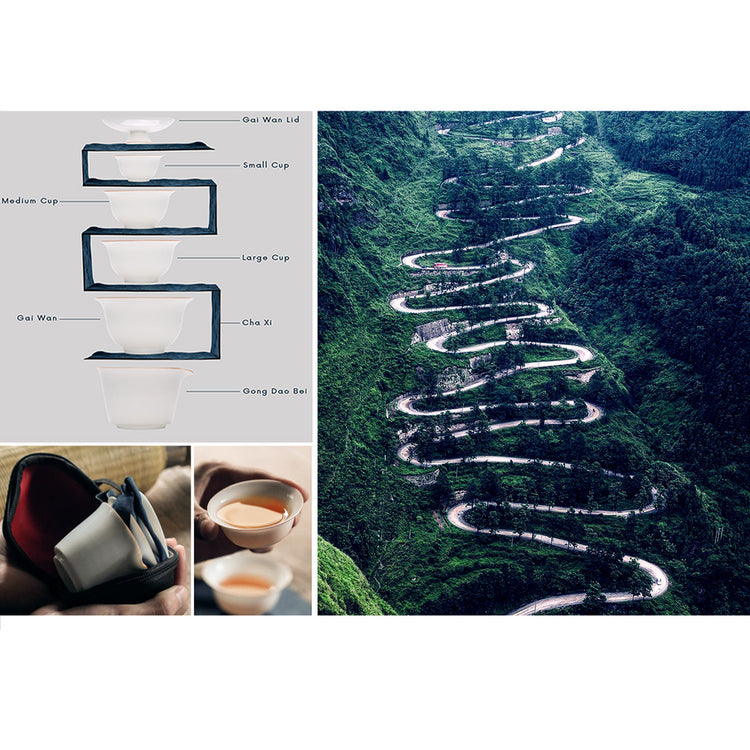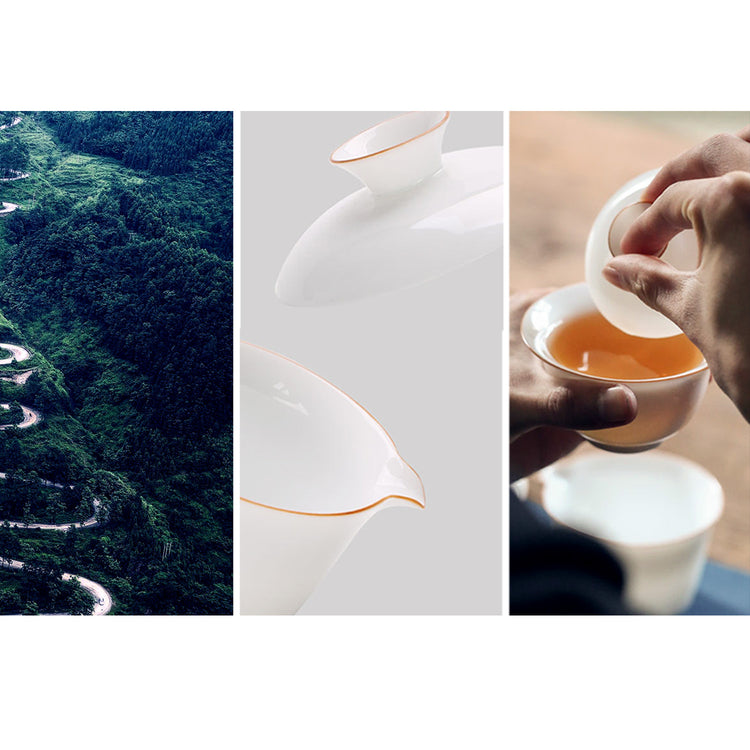 A daily companion
A very compact and small companion - it follows me everywhere - up into the high mountains or onto the lake. I fits in every bag I have and gives me the enjoyment of a proper tea in the middle of nowhere. I like the simple design and the good quality of the porcelain.