The Living Tea Experience (group booking)
Regular price

Sale price

$94.00
Discover tea that is alive and how it makes you feel. See, smell, touch and taste the 2500-year tea culture and celebrate with us the vibrant indigenous traditions.

Different from tea picked from plantations and made by machinery, Living Tea is a traditional tea-making philosophy that follows the rhythm of nature and embodies tea as a living being. Through ancient tea rituals and storytelling, this experience celebrates our ancestral insights into holistic health, cultural diversity and environmental harmony.

WHERE
Virtual via Zoom or in person.

FOR HOW LONG
75 mins
HOW MUCH
£75 | $93 for in-person (UK, London) and virtual.

WHEN
You will be contacted by a member of the team for a date and time that works for your group. We will also ask for shipping details if you require the teas to be shipped respectively.

CAPACITY
up to 50 people. 8 Minimum (Capacity under 8 will be charged for the minimum requirement).

HOW MANY TEAS
5 wild, ancient & indigenous teas: Aged white, Aged green, Yellow, Red, and Seasonal Special.

WHO'S HOSTING
Rui, the founder and messenger of Grass People Tree, was born and raised in the mountains of Guizhou, taught by the Tea Master and the indigenous people of Hui, Miao, Buyi, Yi and Gelao.
Read Rui's story

WHAT YOU WILL LEARN:
The root of tea and the non-colonised tea history.

Traditional Guizhou style of brewing for you to fully experience the 5 teas and to practise mindfulness through the way of tea.

The stories of the 5 teas offered.

Health benefits of Living Tea and how to brew, re-brew and age tea.

How to identify a good tea and choose what's best for you.

How to pair tea with your mood and understand your body through tea.

‍
*This experience is free for anyone under 22.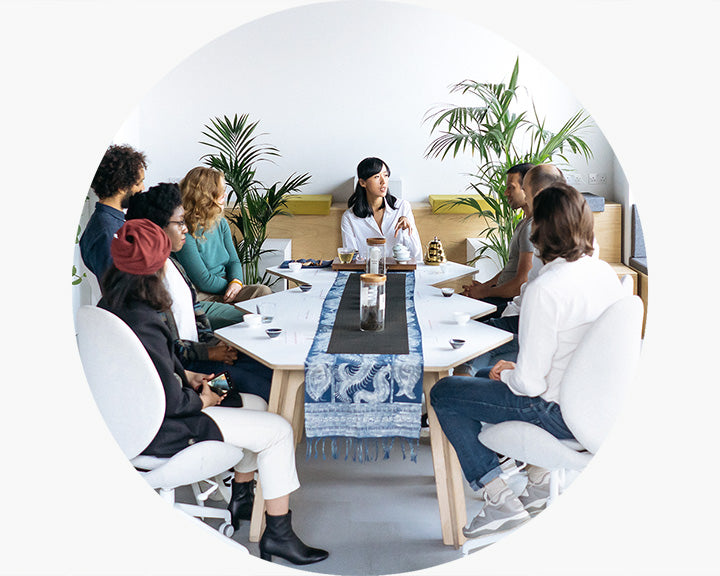 I was the only one that signed up
Since I was the only one that signed up I did receive the package, but haven't had the online portion. My calendar is still waiting for the paint brush to add something. I haven't responded because the event didn't happen. Maybe I can just have a discount the next time I order something.